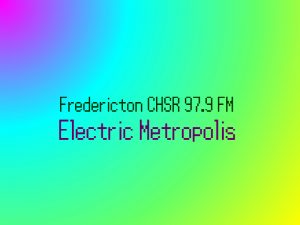 Press 5 and begin your tour with AD Springer through The Electric Metropolis. Our tour will start by taking you through the sky through a reality that flickers in sunshine, now with a complimentary gumball machine. As the tour goes on, the perfect blue moonlight might very well reveal a good love. I promise you, in less than one hour, the macroscopic breadth of electronica will be brought to you with the decadence of french toast Fair warning though. there's no escaping the lunar girl when the rhythm takes off. At the end of the tour, we'll spend a little bit of time reflecting on the year 2094 and the popstar love that consumed even the best of our greatest artists.
Tour Itinerary:
First Stop:
"Pressing 5" by Markus Floats off the album Second Album
VGM District:
"Spreading Wings (The Sky)" by Please Lose Battle off the Twin Dragons OST
"Your Reality is a Flickering Sunshine" by RoBKTA off the album Doki Doki Kawaii Remixes!
"Gumball Machine" by Vahkiti off the album Project Game Gear Special Zone: A Sonic 3 Chiptune Album
Future Funk District:
"Moonlight" by BIGWAVE
"perfectblue" by Hiro Tadomatsu
"A Good Love Down" by Skyler off the album A Good Love Down
Chiptune District:
"One Hour Challenge (w/ Kommisar)" by starshine off the album essential mix 1.5
"Macroscopic" by GIRakaCHEEZER off the Rip Demo OST
"French Toast" by Visualeyes off the Playtime EP
Synth District:
"No Escaping" by Dana Jean Phoenix off the album Synth City
"When The Rhythm Takes Off" by Mirrorvoid off the album Neon Tattoo
"Lunar Girl" by Starfarer off the album Starfarer
Final Stop:
"2094" by DJ Taye off the album Still Trippin'
"popstar love" by In Love With A Ghost off the album gay story
Got any suggestions for future tours?

Podcast: Play in new window | Download
Subscribe: Android | Google Podcasts | RSS