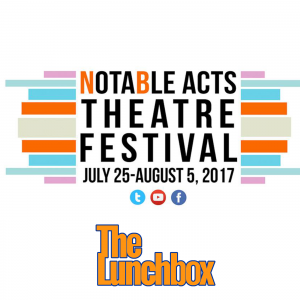 We all have stories to tell — from our lives, from our minds, from our hearts — and sometimes we get to share them in amazing ways.
My guests today are Robbie Lynn and Telina Debly, two of the participants in the upcoming 2017 Notable Acts Theatre Festival. Telina is acting in Hinter by Jean-Michel Cliche, and Robbie is directing Brainstorm (by Gordan Mihan) and acting in It Happened at a Party (by Caroline Coon). Both of them performed in the recent Bard In The Barracks performances, and we talk about the rapid process of learning these smaller, intense plays.
Notable Acts runs July 25-August 5 in multiple locations across the city, from theatres to streetside to libraries and parts.

Podcast: Play in new window | Download
Subscribe: Google Podcasts | RSS