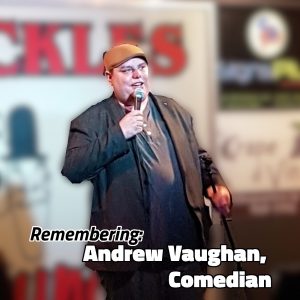 On the show:
Soak up the delightful sun for May Ray Day!
City Encourages Backyard Gardening as Part of 'People Helping People' Initiative



The City of Fredericton has introduced a new educational initiative to teach residents basic skills to start and maintain their own backyard gardens. Throughout the upcoming growing season, the City will film and share short videos providing beginner gardening tips. The videos will be released every few weeks to coincide with seasonal gardening tasks. See the videos, as well as additional gardening resources and guides by visiting the City's People Helping People webpage at

www.fredericton.ca/PeopleHelpingPeople

.



Cultural Market Set To Open May 19

Located in the former Read's Café location downtown on King Street
About half of its vendors will be ready by opening day (4 or 5)
Should have a daily schedule:

Monday to Friday from 7:30am to 6pm
Saturday from 7:30am to 2pm

Food sales will be takeout only, initially

Design Works Wednesdays – Create at Home Series: Creative Egg Carton Gardens
Join the UNB Art Centre on Facebook for a series of FB LIVE workshops, Wednesdays 10:00 am – 11:00 am with our new 'Create at Home' series.

Join us for a salute to the sunshine as we learn about planting from seed, making planters from your household supplies – and the most important – accessorizing! We will be marking our indoor plants to prepare for the day they can live outside and then moving ahead, we will make permanent garden markers to keep your garden organized all season long.
Facebook Event:
https://www.facebook.com/events/1139898429690136/

Digital Tertulia: Kerri Froc on "Henry Morgentaler"

Wednesday, May 20?7:00 – 8:00pm

Kerri Froc is an Assistant Professor of Law at the University of New Brunswick. Formerly a lawyer with Women's Legal Education and Action Fund (LEAF) in Regina, Kerri does research on women's constitutional rights, access to justice, and feminist legal theory.

Henry Morgentaler was a Canadian physician who waged numerous legal battles aimed at expanding abortion access in Canada.

Bondo Picked Young Satan In Love in 2019, with the song Roar of War from Dancing With A Goblin.
I chose Van London's i (heart) noodles from the Postponed: The Mixtape and Awake Alright from Elephant Skeleton's album Sleep.
I stumbled upon my 2013 interview with Andrew Vaughan recently, and was reminded that, in all the confusion with the pandemic, Andrew had passed away suddenly March 18, 2020 of unspecified medical problems. I didn't get a chance to play this interview at the time, so I thought it would be a good reminder to laugh a little, even with all the strangeness going on.
COVID-19 update:
Public Health reported no new cases of COVID-19 over the weekend, leaving New Brunswick's total number of cases to 120 and no active cases. 

The justice department announced on Friday The Court of Queen's Bench will move to the convention centre until at least the end of 2020.

On Saturday, Ottawa announced a lab in Halifax will lead the country's first clinical trial of a potential COVID-19 vaccine. 

The Canadian Forces Snowbirds are mourning the loss of Captain Jenn Casey after her tragic death in a plane crash on Sunday in Kamloops, B.C.

The Ontario government released a lighthearted video on Friday morning of Premier Doug Ford baking the "famous premier's cheesecake" to pass time during the quarantine.

Podcast: Play in new window | Download
Subscribe: Google Podcasts | RSS