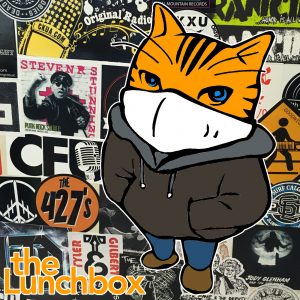 On the show:
Tuesday was Mad Hatter Day, so I hope you weren't surprised to find your head crying out for funky covering.
Speaking of funky head coverings, I thought of Jeff Alpaugh and his Dangerous Designs. He branched out from shirts to create fancy facemasks early during the pandemic, and I spoke to him in 2017 just before his challenge on the Dragon's Den.
And I noticed that Quinn Bonnell is going to be doing a show this month, which is all the excuse I need to bring out the 2016 interview I did with him, just as his album Moving Pictures came out. We also hear two tracks from the album: the title track Moving Pictures and I Don't Mind.
By now, you've missed the debut performance of "Let's Fall In Love" by Spearhead Theatre, but the good news is that this show has another date of October 17 at the Crowne Plaza Fredericton-Lord Beaverbrook. So, get your tickets!
News update:
New Brunswick Public Health reported two new cases of COVID-19 yesterday afternoon.

The Wolastoqey First Nation delivered a notice yesterday suing the province for the right to decide how their land is used.

An RCMP senior forensic analyst testified yesterday to discuss material found on Matthew Vincent Raymond's computer.

Starting on Friday, all NB Liquor customers will have to wear masks in buildings across the province.

Trick-or-treating has the go-ahead from the City of Fredericton this Halloween.

After careful consideration, the University of New Brunswick will continue to offer a blended learning model for its winter term.

And U.S. President Donald Trump is returning to the white house after spending the weekend in hospital.

Podcast: Play in new window | Download
Subscribe: Google Podcasts | RSS