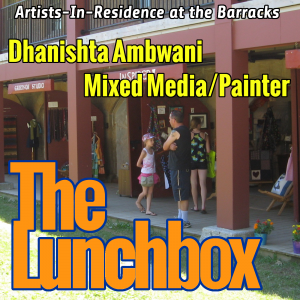 Art should be a lifelong pursuit for most people — even if it isn't likely to become a livelihood. 
During the summer, the Fredericton Arts Alliance brings a pair of artists together in the Barracks to practice their art for all to see. These artists come from a wide variety of disciplines, from painting and sculpture to basket-weaving and writing. As each pair of artists comes in, we'll be talking to them on the Lunchbox.
My guest today is Dhanishta Ambwani, a young artist working in mixed media at the casemates this week. She joins me to talk about what drives her to create art at a young age, how the theme of "Water" is manifesting in her work this week, and what art means to people of her age.

Podcast: Play in new window | Download
Subscribe: Android | Google Podcasts | RSS