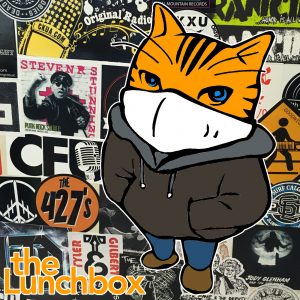 On today's show:
It's voting day! Get to it! Have questions? Look up the official site and get to it!
And because the province is on my mind, I pulled up my 2014 interview with Michael de Adder about his his book of political cartoons, You Might Be From New Brunswick If…
And because Harvest is also on my mind, we revisit my brief chat with Old Man Leudecke before his performance at Harvest in 2015. I paired that with Quiet Creek and Thrown By The Bull from two of his albums.
Speaking of Harvest Jazz & Blues, it's not happening — at least, not in it's normal, large form. BUT, there are lots of local celebrations for our own home-grown, just-us version.

Pallmer, Blue Lobelia & Kurtis Eugene will take the stage at The Cap Patio on Wednesday night at 7pm. 

See the Facebook event for more details.

Josh Bravener is playing on Thursday at 5pm at The Delta Fredericton. Free cover!
The Delta Fredericton will also feature Anthony Gray on Friday at 9pm for another show. Again: free cover!
Maggie's Farm Revival is celebrating Harvest at Dolan's Pub on Thursday night at 7pm. Due to social distancing, reservations of a table (for 4 or more) are necessary; email Rick Hutchins (hutchinsr [at] outlook [dot] com) to reserve.
Dolan's Pub welcomes Certified for Friday and Saturday nights at 9pm.
Gin & Jazz at The Southside Shake will be on both Friday and Saturday nights at 8pm with special guests both nights.
The Royal Canadian Legion (365 Smythe St) is bringing back live music starting this week with Rabbit Town Ramblers & Friends on Friday at 6pm.
The Tribute Bar & Lounge welcomes Theresa Malenfant & Scott Medford on Friday at 7pm. Tickets are $20 and must be purchased in groups of 4 or 6. Limited seating is available. 

See the Facebook event for more details.

The Montgomery Street Band and Womb To Tomb are on the stage at The Charlotte Street Arts Centre on Friday night at 7pm. 

See the Facebook event for more details.

While there are going to be some actual performances, you can also see great past performances streaming online 

via Harvest's

Facebook

and

YouTube

pages on Saturday. See the website for more details.
You can celebrate Harvest and help people on Saturday at noon by joining a fundraiser in support of Nutriendo el Future at the Feeding The Future (Venezuela) in The Tannery. There is no ticket price, but tables must be reserved in advance on The Cap Patio and the extended Klub Khrome Patio. (Reserve your tickets in advance.) The Dolan's Patio will operate on a first come, first served basis.
And while you can probably wander by to enjoy it, official tickets have sold out for Sunday afternoon's Harvest 29.5 show in the Tannery. The show will feature Dub Antennae, The Big Band of Fun, McKinley Morrison & Williams, Hum & Hollow and Catherine Kennedy (with Josh McKinley). 

See the Facebook event for more details
News update:
New Brunswick Public Health reported no new cases of COVID-19 over the weekend.

After four weeks of a fast-paced campaign, residents will head to the polls.

Police rescued a man and his three children after they didn't return from a hike on Friday morning near Mount Carleton.

Residents in Blackville are in mourning today after three teenage boys died following a car crash early yesterday morning.

The murder trial for Matthew Vincent Raymond is slated to begin on Tuesday morning.

New Brunswick's theatre community has had to come up with many workarounds during COVID-19, and St. Thomas University is no exception.

Students from Priestman Street Elementary School are back in the classroom today.

And one teen had his lifelong dream come true after a Toronto Star article.

Podcast: Play in new window | Download
Subscribe: Google Podcasts | RSS