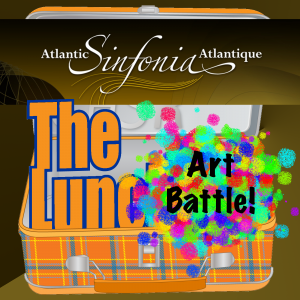 Art moves us..
Whether it is the art of music, or the art of painting, we are moved by the expressions from its creators and performers, drawn up into a world of imagination and suspended there for a time.
On today's show, a pair of interesting conversations about two art presentations. First up, Sarah Beth Shiplett of Music On The Hill returns to enlighten me on how music sounds in a space, and lets us all know about the upcoming performance of music commemorating the end of the battle of 1812, performed by Atlantic Sinfonia. That concert is on this coming Saturday at 3pm at Memorial Hall here on campus.
And secondly, I phoned up Andre Sampson to ask him about the whole Art Battle phenomenon: where it came from, what it is and how it's growing. The next Art Battle in Fredericton comes up on Friday night at 8pm at the Charlotte Street Art Centre.
Music today:
I promise, eventually and with enough practice, I'll Get It Right (Echo Nebraska from their Send The Ships album);
And while I didn't have any actual symphony music to play, I do have Olympic Symphonium to always choose from, here taking on the weather (in my mind) with Chance To Fate from the album of the same name;
And finally, to give you a sense of the pace of competition, Halifax's own Instruments gives us Clock from the recent The End Of Light By Heat album,

Podcast: Play in new window | Download
Subscribe: Google Podcasts | RSS