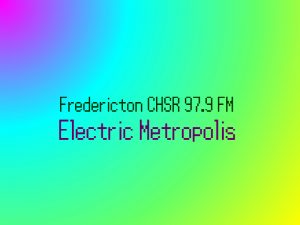 Here at our Year's End, I am inspired to think of the past inaugural autumn and winter season of The Electric Metropolis and how special they are to me. Thirteen official episodes, with one pilot episode on the Bricolounge, have come and gone and I have enjoyed each and every one of them. I have had the opportunity to meet great artists, listen to great music, and showcase music to you all that most don't usually hear on the radio. From dance-friendly Future Funk; synthwave both bright and dark; chiptunes from video games to demonstrations of hardware; and all else in electronica that I have slowly experienced with each and every listener who have listened live and via podcast: these things I am forever grateful for.
Don't mistake me, this is not the end of our tours throughout The Electric Metropolis. In the New Year we'll be exploring more chips, more games, and more music from around the globe to bob, dance, and smile to. If there is anything that makes touring worth it is knowing the sprawl of sound and song is never-ending into every direction all day and all night.
Tour Itinerary:
First Stop:
"Human" by  Theodore West off the RE:Human album
"It's Not A Keygen, It's DSi" by Lazy Nerd 204 off the M01 Redux album
Future Funk District:
"Fire In the Sky" by Lola Disco off the Girl Talk album
"My Love" by snowshoo off the snowshoo EP
"Haveagoodtime" by Fairy album Slice of Life OVA 
Singer's Square:
"System Magic" by Goldfrapp off the Silver Eye album
"Home" by Joe Goddard off the electric lines album
"Oh Dalilah" by Chris & Nis (AM Static) off the Rise & Shine album
Chiptune District:
"Pyramid Zone" by Game Genie Sokolov off the Backround Sounds 01 Album
"2a03 Strut" by Dya off the Neon Dreams album
"Staycation" by Hoffy off the Whiskers Mahone album
C-64 District:
"Doves Fly" by Ari-Pekka Paljakka aka Zardax off the Summer of SID album
"Sunset" by LukHash
"Bliptastic!" by ComputeHer off the Bliptastic! album
Final Stop:
"Paradise Rush" by ZAYAZ off The Singles album
"Into The Future" by Dana Jean Phoenix off the Synth City album
Got any suggestions for future tours?

Podcast: Play in new window | Download
Subscribe: Android | Google Podcasts | RSS