The current Schedule as of 2019-11: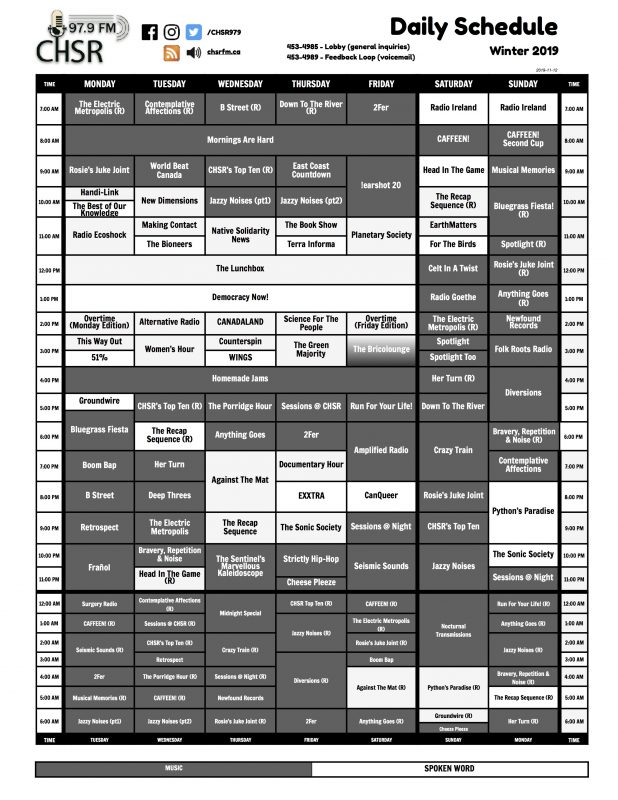 What's on? Some of the locally-produced shows you might want to check out:
!earshot 20 – the pulse of campus/community music choice across Canada (M)
2Fer – 2 tracks by the same artist, back to back; other than that, who knows! (M)
Against the Mat – Fredericton's only wrestling & UFC talk show! (S)
Anything Goes

– there is so much great new music out there, come here to find it! (M)

Bluegrass Fiesta – traditional and contemporary music of the hills (M)
Bravery, Repetition & Noise – a psychedelic mix of shoegaze (M)
Bricolounge – a random mix of everything! (M)
B Street – great music with Lainie B! (M)
CAFFEEN! – beautiful, wordless music, from deep dreams to rumbling awake (M)
Contemplative Affections – love your music, love your mind (M)
Crazy Train – the classic metal show rolls down the rails! (M)
Diversions

– enlightening opera and classical performances (M)

The Electric Metropolis – chiptunes, electronica, electropop: all things needing a plug to work (M)
EXXTRA – gender-based issues and social topics (S)
The Documentary Hour – your topics, your words, your stories, from here and around the world (S)
Fandom Hour – anime, movies, all the geeky goodness (S)
Head In The Game – discussions about tabletop roleplaying games — roll a nat 20! (S)
Jazzy Noises

– jazz for those who think they know jazz, or think they don't know jazz (M)

The Lunchbox – current weather, current events, current music, current history, currently on my mind (S)
Mornings Are Hard

– join Bondo as she struggles to find wake-up joy in music (M)

Musical Memories – legendary host Don Roberts' tour through historical vinyl (M)
Nocturnal Transmissions – for those who can't or won't get to sleep on Saturday night anyway (M)
Overtime

 – reflections on sports, from university up to the pro leagues (S)

The Porridge Hour

– a clash of musical ages (M)

Python's Paradise

– esoteric movie reviews & alts from the stars (M/S)

Rosie's Juke Joint – rock your blues away! (M)
Run For Your Life! – escape to your weekend with energetic rock (M)
Seismic Sounds – dedicated to metal of all kinds (M)
Sessions@CHSR – bands come in, we talk to them, they play music, everybody wins! (M)
Sessions@Night – more sessions, but occasionally with bands and language a little harder, a little rougher (M)
Spotlight – highlighting a single new album (M)
Spotlight Too – classic episodes of Spotlight from over the years (M)
Strictly Hip-Hop

– DJ STV 90-minute funky beat mix (M)

Top Ten – Your weekday morning hosts, Tammie & Roger, recount the favourite albums played on the station that week.
Other shows:
51% – discussions of issues for women and everyone (S)
Amplified Radio – the best in electronica, trip hop, deep house and techno from around the world (M)
The Bioneers – discussions with people exploring practical and innovative solutions to global environmental and bio-cultural challenges (S)
Boom Bap/Walkuman Style – spinning a continuous groove of subterranean hip-hop goodness from Gamma Krush (M)
CanQueer – The LGBTQ Program highlighting topics from all across Canada. (S)
Cheeze Pleeze – taking a lighter look at awful music (M)
Counterspin – reversing the news spin (S)
Deep Threes – music beyond borders (M)
Democracy Now – The War & Peace report (S)
EarthMatters – examining the impacts we have on the environment and the natural world around us; seeking solutions, reporting on news and events, presenting positive alternatives, and highlighting the steps others are taking to mitigate reckless and destructive development (S)
East Coast Countdown

– 

features the Top Ten hottest songs from Atlantic Canadian artists as voted by the public (M)
Frañol – fun music in Spanish and French (M)
The Green Majority – dedicated environmental newshour (S)>
Groundwire – the national campus radio program with rotating campus hosts (S)
Handi-Link

–

host Cam Wells compares similarities and differences between disabled and able bodied life (S)
The Midnight Special – music & comedy from bluegrass to folk (M)
Native Solidarity News – native issues & news (S)
Newfound Records – folk music from the Rock (M)
Planetary Radio

–

the quest for knowledge of our solar system and beyond (S)
Radio Goethe – music from and inspired by Germany (M)
Retrospect – 60s global garage punk rock (M)
Science For The People – the world of science and critical thinking; (S)
The Sentinel's Marvellous Kaleidoscope – looking inward and beyond at progressive, fusion and alternative genres, near and far… (M)
The Sonic Society – audio drama from around the world (S)
Surgery Radio – music journeys of post-alternative (M)
Terra Informa – breaking environmental news & reports (S)
This Way Out – the international gay & lesbian radio magazine (S)
Women's Hour – news of women, by women (S)
World Beat Canada – a one hour audio magazine featuring the very best in cultural expressions (M)
WINGS – the Women's International News Gathering Service (S)