#GivingTuesday, December 1, 2020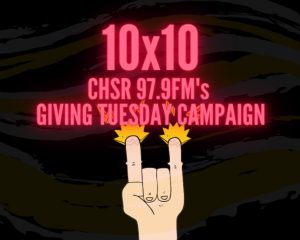 You're aware of Black Friday, and Cyber Monday; but the latest trend is #GivingTuesday, an international day of charitable giving following the two days that are good for the economy. Now there's a day that's good for the community!
CHSR is holding a
10×10 Fundraising Campaign
 where we're asking for a donation of $10.00, then encourage you to tag/tell 10 friends to do the same. The hope is that this will become a snowball effect that the Fredericton community can get behind!
You can e-transfer stationmanager[at]chsrfm[dot]ca, or see more donating options below.
---
CHSR-FM is an independent, alternative, non-profit, campus/community radio station. We provide a 24/7 service, both in terms of delivering great alternative programming not available anywhere else, and in terms of providing a venue for public engagement, skills training and community support.
Your donation will help support the continued growth that CHSR-FM has demonstrated for over 56 years in operation. We are dedicated to expanding service, offering and training for the coming decades as well.
Thank you so very much for your support!
How You Can Donate
---