Please read before contacting the Music Director with your questions!
(Last updated March 2023)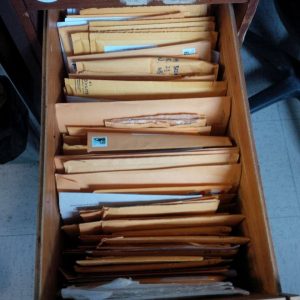 We are always looking for new music to add to our ever-expanding library. CHSR loves hearing new music of all genres and especially loves supporting local emerging artists. You can submit your music to us at any time.
Mail Submissions
CD's/LP's/Cassettes can be dropped off at our studios or snail-mailed to:
CHSR 97.9FM
PO Box 4400
21 Pacey Drive
Fredericton NB
E3B 5A3
CANADA
Make sure your package contains:
proper playable CD (not a data disc)
a

clear

tracklist
artist information (who/genre/location)
contact information
Digital Submissions
We prioritize physical submissions, but you can email digital submissions in MP3 form at a minimum of 320 kbps through a digital download link (WeTransfer, Dropbox, Google Drive, etc.) or attached as emailed files.
If you're from Atlantic Canada, put LOCAL in the subject line.
Digital submissions will only be accepted through MusicDirector[at]chsrfm[dot]ca
Vinyl/Cassette Submissions
CHSR will gladly accept 7-inch, 10-inch and 12-inch vinyl singles with at least one B-side. Please send along a digital download code with your cassette.
Will My Music Get Added To A Station Playlist?
No. Our programmers have the freedom to choose what songs they want to air on their shows. Your (physical) album will be placed with the new releases in our Playbox for about 3 months where our programmers with easy access to them. After they're rotated out of Playbox they will spend the rest of their eternity in our Music Library, the largest in Atlantic Canada!
Sessions @ CHSR
CHSR-FM hosts a regular weekly recorded-in-studio-D show called Sessions @ CHSR, and we'd love to have you do one. Just contact email our music director at Sessions[at]chsrfm[dot]ca or use the contact form below. **NOTE: Sessions are currently on hiatus 
My Band Is Coming To Town, Do You Do In-Studio Performances? 
Every single weekday we have programs dedicated to providing exposure for local and touring artists, as well as community events and concerts. We make our studios available for live, direct-to-the-airwaves performances EVERY SINGLE WEEK.
Contact us about opportunities to have you visit these live shows!
I Have A Gig, Will CHSR Tell Listeners About it?
We'll sure do our best! We run weekly on-air ads about who's playing at The Capital Complex that weekend, but you can always email PSA[at]chsrfm[dot]ca so we can add it you our online event calendars! Our programmers read from these!
How Much Music Does CHSR Receive?
A lot. Literally hundreds of albums per month. Want to review some? All albums must be listened to before hitting the airwaves so we're aware of content and potty-mouth tracks. It's a great way to volunteer with CHSR!
I Just Popped My CD In The Mail, Now What?
If you're mailing from Canada it'll probably about a week to get here, from outside of Canada even longer. Once it arrives it's sorted by genre and waits to be reviewed by one of our awesome volunteers. Highly rated CD's go into Playbox, average or below go straight into our library. Maybe wait and email a week or two after sending to see where your submission ended up.
Contact Us!