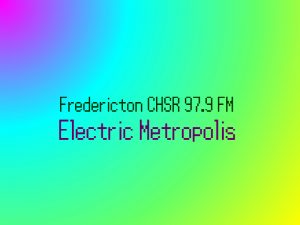 Another brilliant moon rises to light the night in a halo of neon lights. The stars are shining just beyond the haze of light; but the brightest stars in the night reside on the streets and alleys of The Electric Metropolis! I am your musical tour guide, AD Springer, and it's time to begin our first tour of the new year through this wonderful city of sound and song! We will be starting our tour with a bright virtual concert by Adriana Figueroa as KIRA*MIKI from the cyberpunk bartender visual novel VA-11 HALL-A to the cyberpunk instrumentality of Garoad. After that will be a pleasant and warm trip from Daniel Saylor's Spring Rain album. With this bright and soft beginning of our tour, we'll see our way through the beautiful tones of Synth; cruise the Chiptune streets deep in memory; enjoy an exciting adventure through the VGM District; coming to a final stop to the singing of Ashley Barrett and Daniel Korb's enchanting music from the Transistor Original Soundtrack of Supergiant Games fame; and ending our tour by meeting a friendly witch who just wants to be your friend courtesy of In Love With a Ghost.
Tour Itinerary:
First Stop:
"Shine Spark" by  Garoad off the VA-11 HALL-A EX – Bonus Tracks Collection
"Unstill Waters" by Daniel Saylor off the Spring Rain Album
Synth District:
"Oceans Apart" by FM Attack off the Stellar album
"Nomad (feat. Dana Jean Phoenix)" by Complierbau off the Album Tricker's Paradise
"One Must Fall" by POWERCYAN from the Powergrid EP
Chiptune District:
"Reizen" by Cyanide Dansen off the Corona Zeatin album
"High Hopes" by LMan off the Summer of SID album
"Whiskers" by Hoffy off the album Whiskers Mahone
VGM District:
"Sanctuary Arp II (Title Screen)" by Rafael Langoni Smith off the SanctuaryRPG OST
"Stage 05 BGM ~ Hall of Death" by Norrin_Radd off the Treasure Buster Original Soundtrack album
"MUS_BOSS" by HALLEY LABS SOUND CREATION off the AKUMA NO AKUMU ~AR EQ-KUA ER SETA~ <<FIRST DREAM>> MINI SOUNDTRACK
Final Stop:
"She Shines" by Darren Korb off Transistor: Original Soundtrack
"i was feeling down then i found a nice with and now we're best friends" by In Love With A Ghost off the album healing
Still here? Read this far into the itinerary? Then let me leave you with a bit of advice, from one music lover to another: click on the names above, seek out these artists on their twitter/bandcamp/soundcloud/youtube pages and support them. From things as large as buying their music, or even just letting them know you like their music: it always helps them and gives fuel to fire of creativity; perhaps, if nothing else, brightens their nights knowing that we all want to tour through through musical creations and works just a bit longer. Anyway, I've held you up long enough, thank you again for touring with me, and Happy New Year to you and all you care for today and tomorrow after! 
Got any suggestions for future tours?

Podcast: Play in new window | Download
Subscribe: Android | Google Podcasts | RSS