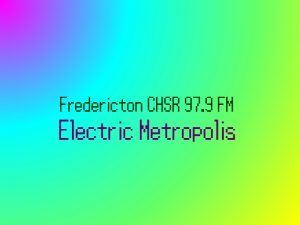 There is a city that rests beyond all dreams, there is a future that we always think about and wish was here. Tonight, today, that city is The Electric Metropolis. I am AD Springer, your Musical Tour Guide to all things in the Electronica Sphere and Beyond! Tonight and today we are going into the districts the beautiful districts that have all the sound and beauty you could ever want in the shining lights of this great city of mine.
Tour Itinerary:
First Stop:
"Hansako Tere Pashi (feat. Mumin Nemu)*" by Fezz
Club Electric:
"Origin Unknown" by Starfarer off the album Into the Unknown
"Monolith" by Villainest off the album A Vision of Light
"Candy Highway" by Chibby
Chiptune District:
"Simulation Theory" by Calavera off the album Journeys
"Salus" by they/them off the album Quid, Quare
"Heroes Theme" by Hellokikimusic off the album Made In Tokyo
Future Hall:
"PIKE PLACE" by RQ off the album MEGAx5 – Vth Anniversary
"L'Oiseau Dans L'Espace" by RoBKTA off the album Selfie USA
"Obstruction" by Roex off the album Augmentation
VGM District:
"The Legend" by Toby Fox off the DELTARUNE Chapter 1 OST
"Donuts" by Mere off the Mochi Mochi OST
"Pomerania" by Random-storykeeper off the Terraform OST
Final Stop:
"Don't Leave Me Here" by Bloody Diamonds off the album Ghost
*Machine Translated from Japanese
Got any suggestions for future tours?

Podcast: Play in new window | Download
Subscribe: Google Podcasts | RSS