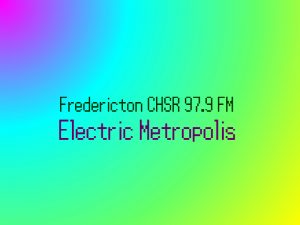 I am AD Springer (AKA Corbinion), where I always say non-english words with unerring accuracy and even without accent! (The Electric Metropolis Tourism Authority apologizes for the mispronouncing of the song names, artists, albums by any of its musical tour guides.) Well, points for trying? (No, stop mispronouncing things AD, seriously.) Um, well, anyway…welcome to The Eclectic Metropolis! (Do you want to be fired?) I'm joking! I'm joking! (AD…) So, before I get fired, let's get the tour of The Electric Metropolis started! Catch some of these great songs by these great artists! Embrace the joy before getting your funk on! Travel to mystical lands hidden in the mists of time. Gaze into the future and feel that synthetic shiver. Plug in the chips and munch down on the sweet electric motion before embracing your inner egomaniac! These things you can find on the tour and I can only ask you listen in and listen close!
Tour Itinerary:
First Stop:
"On The Way" by Joyful Noise off the album Cocoloco
Future Funk District:
"Residual Heat" by Dan Dan off the album (Cards Are Popular)*
"Ouais Ourais (ft. SlyLeaf)" by LemKuuja off the album CHEESECAKE+
"Her Name Is (Hatsukoi)* Lady" by (Mikazuki)* BIGWAVE off the album (Kanojo wa)* LONELY GIRL
VGM District:
"Wizard of Legend (Title)" by Dale North off the album Wizard of Legend Original Soundtrack
"Legend of Zelda: A Link to the Past "Divine Princess of Destiny" OC ReMix" by RebeccaETripp from the website ocremix.org
"QUEST FOR GLORY IV – Erana's Staff" by Aubrey Hodges from the Shadows of Darkness soundtrack
Synth District:
"Thread Tugging" by Mythless off the Patience Hell EP
"Into the Future" by Dana Jean Phoenix off the album Synth City
"Run From Fire" by To The Trees from the album To The Trees
Chiptune District:
"FLUKE" by Renard off the album SHOUNEN BASS! TURBO
"Arcade Mania" by Naoki Che from the album Summer Vacation
"Nintenesis (Sunvox Patched Redux)" by Lazy Nerd 204 off the album Soul Searching
Final Stop:
"Egomaniac" by Venator off the album The Internet Knows I Exist
Got any suggestions for future tours?
*Machine Translated

Podcast: Play in new window | Download
Subscribe: Android | Google Podcasts | RSS