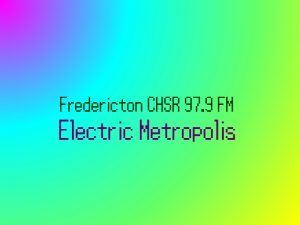 It has been two years since the first broadcast of The Electric Metropolis with your musical tour guide AD Springer! In this city of beautiful sound and song we carry on to enjoy all that is bright, beautiful, and brilliant in the sphere of electronica and beyond! I have been especially privileged and honored to feature some artists that color my dreams paint my soul and make me smile to the great tunes that need to be heard. From synth to chip to beats to dance to love and to reach out and enjoy: all this and more have I been glad to share and will continue sharing for as long as I can. To my lovely tourists, I thank you very much for touring with me; to the artists I thank for putting thought to sound and entertaining us all with your wonderful music. Special thanks to all the people I interviewed this year: Familyjules, Strawberry Station, Visualeyes, Chris Logsdon, James Harding, Fredrik Hathen, Julia Henderson, Roborob, and Brian Diamond! Look forward to more interviews and more reach & grab you music in Year 3!
Tour Itinerary:
Club Electric:
"Up In Arms (feat. Megan McDuffee)" by DC Motion off The Edge of Summer EP
"Slow Motion Gunfights" by Villainest off the album A Vision of Light
"Moonrise" by Age of Vinyl & Hay Tea off the album Eternal
Chiptune District:
"Never Want to Be a Hero" by Kitsune(squared) off the album Tracker's Draft
"The Day After The Fire" by National Broadcast Network off the album 7 Billion Volts
"Torn" by Watch Out For Snakes off the album UPGRADE
Future Hall:
"Early Riser" by Strawberry Station off the album 128 State
"Pastel (w/Snail's House)" by Moe Shop
"bounce" by Candy Apple off the Candy Apple EP
VGM District:
"The Deep Deep" by Stemage off the album Card of Darkness (Original Game Soundtrack)
"Spooky (Heos-Mode)" by Heosphoros off the Micro Mages OST
"Beyond the Big Infinity (Flight into the Unknown)" by Jorito feat Sagnewshreds off the album Secret of Mana: Resonance of the Pure Land
Final Stop:
"To the Sky!" by Garoad off the album Blue
Got any suggestions for future tours?

Podcast: Play in new window | Download
Subscribe: Google Podcasts | RSS