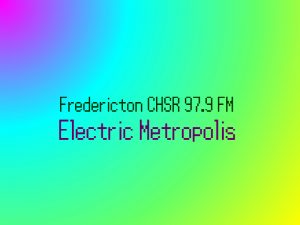 There is nothing like a distorted walk through the city of sound and shimmer that is The Electric Metropolis! I am AD Springer, your musical tour guide into the dazzling sounds of this great city. Tonight, we will start our journey from the West Mansion and work out way Far And Away to the Palace of Destruction on this chilly November night. As some are like to say, 'we are of one dream and one destiny: to see this empty town escape our distorted past and rise the shining heights of the stars!' So come with me, listen close, and enjoy the tour as you can, while you can.
Tour Itinerary:
First Stop:
"West Mansion [UNMIXED]" by Mayhem off the album BEST OF LAPFOX VOL.4: It's Murder
Club Electric:
"New Survival" by Ellevator off the album Ellevator
"Far And Away" by Dana Jean Phoenix off the album PixelDust
"Slow Motion Gunfights" by Villainest off the album A Vision of Light
Chiptune District:
"Cyberhero Disco" by Fearofdark off the album Soundchip Salad
"Forwardspace (Pain Perdu's Coherent Remix)" by Pixeltune off the album CheapBeats x CheapBeats VOL02
"Ys – Palace of Destruction" by Heosphoros
Future Funk District:
"Violets" by R E M L A R R
"Nausicaa" by eleven eastern off the Sinto Muito – EP
"November" by LemKuuja off the album CHEESECAKE+
VGM District:
"Octopath Traveler Main Theme" by FamilyJules off the album The Eightfold Road: Metal Arrangements from Octopath Traveler
"Final Fantasy X "One Dream, One Destiny" OC ReMix" by Bluelighter off the website http://ocremix.org
"Empty Town" by Toby Fox off the DELTARUNE Chapter 1 OST
Final Stop:
"Let the Snow Fall as Our Memories Begin to Fade" by Chibby off the album Warm Emotions
"Our Distorted Past" by Chibby off the album Warm Emotions
Got any suggestions for future tours?

Podcast: Play in new window | Download
Subscribe: Android | Google Podcasts | RSS | More