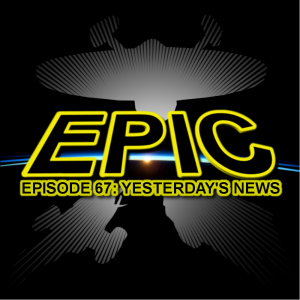 In the news: The ISS, Discovery Channel, and a pizza delivery guy.
Show Notes
ISS Crew locks down inside Russian sector cooling after cooling system glitch
From RT.COM: "The threat of a possible toxic leak in the US sector of the ISS forced the American astronauts on board to isolate their module and move to the Russian sector. The hatch was reopened hours later after no leak was detected"…"NASA says the false alarm may have been caused by a "transient error message in one of the station's computer relay systems, called a multiplexer-demultiplexer." … "After turning the relay box off and on again, the error message disappeared. Flight controllers have said the relay box is in good operating condition."
Discovery Channel's new president promises they'll stop making stuff up
From Vox.com: "The new head of Discovery Channel, Rich Ross, has lately been telling reporters that he wants to put a stop to at least some of the channel's outrageous stunts and fake documentaries.
Adam Ruins Everything: Tipping
http://www.youtube.com/watch?v=q_vivC7c_1k
Internet Owns Car Dealership
Hosts
Music
Slow Coaster: Flip Flops
Wintersleep: Nothing is Anything (Without You)
Corrections
If you noticed any issues with this episode and would like us to post a correction, email us here: epicchsr [at] gmail [dot] com or tweet us at: @epicchsr
Credits

Podcast: Play in new window | Download
Subscribe: Android | Google Podcasts | RSS