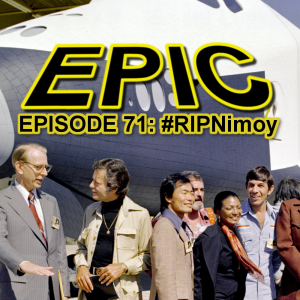 After almost a month of being buried in the snow, the Epic crew dig themselves out to talk about the life of Leonard Nimoy.  Mostly.
Hosts
Music
Leonard Nimoy – If I had A Hammer (The Hammer Song)
Leonard Nimoy – The Ballad of Bilbo Baggins
Leonard Nimoy – Put a Little Love in Your Heart
Show Notes
A look at CHSR Studios
The Indigogo Campaign
https://www.indiegogo.com/projects/chsr-fundrive-2015
The Internet's Grandfather
https://twitter.com/search…
Bangles video
He directed and did because he Susanna Hoffs; grew up as a neighbor to Nimoy and hung out with his kids who were about the same age
Bruno Mars Video
Car Commercial
Old Car Commercial
Pager commercial
The Best of spock
Priceline
The Full Body Project (Caution: Link contains nudity)
http://wineandbowties.com/art/the-full-body-project-by-leonard-nimoy/
Leonard Nimoy Explains the Origins of the Vulcan Greeting
Leonard Nimoy's Exotic Pet Store

"Spockifying" the Canadian $5 dollar Bill

Corrections
If you noticed any issues with this episode and would like us to post a correction, email us here: epicchsr [at] gmail [dot] com or tweet us at: @epicchsr
Credits
Produced in partnership with CHSR 97.9 FM in Fredericton, New Brunswick
Post Editing: Marc Cabot
Opening Sketch written by: The Clockwork Doctor
Opening/Closing Music: "Cheezee Lab" by Kevin MacLeod via Incompetech.com
Epic is published by CHSR Broadcasting Inc.
All views expressed on this program are solely those of the individual and not necessarily that of CHSR Broadcasting or Geekloo.

Podcast: Play in new window | Download
Subscribe: Google Podcasts | RSS