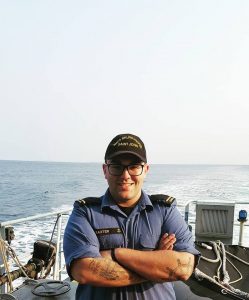 Working towards a college or university degree is a formidable undertaking. The time management challenges of academic studies, classroom lectures, practicum's and labs leave little room for extracurricular activities. The constant effort is exhausting and the need for down-time can become significant. One University of New Brunswick – Fredericton student [and CHSR 97.9FM Board of Director] is managing these challenges as well as adding another unique set of demands. As a Naval Reservist, Matt Baxter has also immersed himself in a part-time career in Canada's military.
Working on a joint honours program for History and Political Science, Matt is concurrently training to be a Maritime Surface and Sub-Surface (MARS) Officer in the Royal Canadian Navy. MARS officers are the only officers who command and conduct the strategies, tactics and operation of ships, submarines, and combat information and weapons systems. He is also a member of ship's company at HMCS Brunswicker in Saint John.
"I chose UNB because of their amazing History department, and the extensive programs they offer. I chose History and Political Science because of my interests and hobbies. Growing up in a military family I was always fascinated by military history, war movies, and building model warships. As for Political Science I have always been interested in world events, international relations and how nations work together, and how they work against each other," he adds, "Fredericton is also my hometown so it was nice to move back and feel at home."
Naval Cadet Matt Baxter is equally proud of his new Navy career. This summer he attended Basic Military Officer Qualification in Valcartier, Quebec and then flew to Victoria, BC to complete his MARS 2 course. "One of the best experiences so far would be the friendships I made on course. Since shipping out for the summer I have made some tight bonds with exceptional people from all over Canada during some of the most challenging days of my life. It can be tough but at the end of the day, the sail, or the course it's incredibly rewarding."
Back in school Matt continues with his commitment to studies. In his 'spare' time he runs and swims daily and is hoping to give the Woodsman team a shot this year. He will also keep busy as the UNB History Society President running lots of events, socials, outings, and department related activities. "Summer was great. I've had endless opportunities practically thrown at me for work, volunteering, and experiences while still maintaining good grades." There is no doubt that NCdt Baxter's discipline and determination will see him succeed. UNB and the Naval Reserve, have prepared him well.