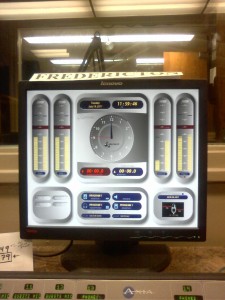 Welcome to all new and prospective members! We'll be holding another basic (T1) training session to introduce new members to the way that CHSR works, the basic rules you have to follow to do radio, and to explore some of the ideas you have for how to get involved.
The next T1 training session will be held on October 25 at 5:00pm until 7:00pm in Room 103 in the Student Union Building (SUB). That's a conference room on the second level.
If you cannot make this time: it is possible to make separate arrangements. Contact the Program Director (ProgramDirector [at] CHSRfm [dot] ca) to figure out a time. There are a very limited number of additional times in October.
Also, for those of you who are ready to take the next step to technical training (T2), contact the Program Director (ProgramDirector [at] CHSRfm [dot] ca) about how to start yours. This training will give you the very basics in using the mixing board, working behind a microphone, recording and editing audio, and is a hands-on, experienced-based practice session.
The following training slots are available for up to 3 people, each Monday through Friday, 1:30pm & 3:00pm. You will need to book this with me — drop-ins are unlikely to work!