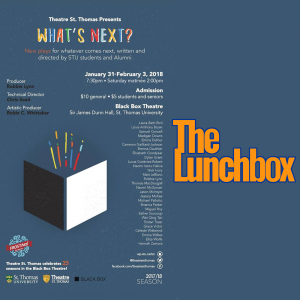 Theatre is an ever-present, ever-moving medium — and yet, we will be able to draw an infinite number of stories from the past, some real, some never real.
My guests today are Robbie Lynn (producer), Michael Pallotto (writer) and Samuel Crowell (director), each involved in the currently ongoing latest productions of Theatre St Thomas, under the umbrella question of What's Next?. Each of them brings their perspectives on how these student-written, brand-new plays were developed, transformed, rehearsed and now staged at the Black Box Theatre at STU. The Black Box itself is celebrating it's 25th anniversary of being a wonderful canvas on which stories are told.
What's Next runs January 31 to February 3, with nightly performances at 7:30pm, and an additional matinee performance on Saturday.

Podcast: Play in new window | Download
Subscribe: Android | Google Podcasts | RSS