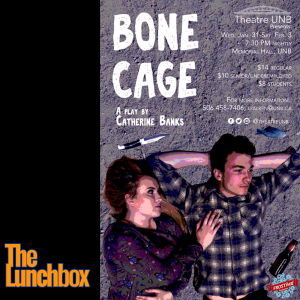 Most of the time, we see fantastical stories that in no way represent our actual experiences. Once in a while, we are told our own stories, and recognize the drama of so-called "ordinary" lives.
My guests today are Len Falkenstein (Director of Drama at UNB), Alex Pannier (actor) and Devin Rockwell (actor). The latest play to be staged by Theatre UNB is Bone Cage, an award-winning play by Catherine Banks. Bone Cage is set in a place that should seem familiar to many New Brunswickers: a rural community in the Maritimes. We talk about playing characters oh-so-familiar to the actor's lives, the interaction between these two lead characters, and the impact of telling stories about our real lives.
Bone Cage is being staged at UNB's Memorial Hall from January 31 to February 3, running from 7:30pm each night and featuring a matinee on Saturday afternoon at 2pm.

Podcast: Play in new window | Download
Subscribe: Android | Google Podcasts | RSS