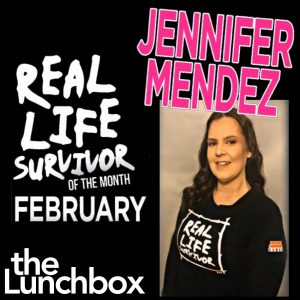 For February, Julie Comeau and Mark spoke to Jennifer Mendez, who has lived with fibromyalgia for over two-and-a-half decades.
Jennifer has overcome numerous related complications, and continues to survive symptoms such as severe pain, headaches, tremors, nausea and extreme fatigue. Her strength and motivation to support many non-profit organizations comes from the famous quote by John Holmes: "There is no exercise better for the heart than reaching down and lifting people up.
Each month, RealLifeSurvivor profiles a person who has gone through trauma and difficulty and emerged on the other side stronger and with a fuller appreciation of life.

Podcast: Play in new window | Download
Subscribe: Android | Google Podcasts | RSS | More