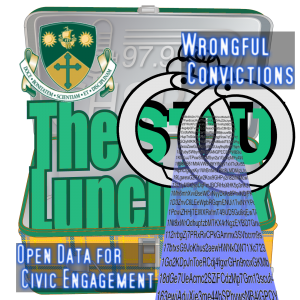 Another pair of documentaries produced by students of STU Journalism: Open Data for Civic Engagement & Wrongful Convictions!
In the first part of the show, Connor Jay presents a half-hour about Open Data as a vehicle for enhancing civic engagement in communities of New Brunswick. He talks to Ryan Brideau, a Fredericton man behind the national collaboration project called Citizen's Code, as well as an urban planning scholar at UNBSJ, and someone combining GSM and Twitter data for post-disaster activity.
In the second half, Stephanie Sirois examines how and why Wrongful Convictions happen. She talks to the acting Director of the Criminology Department at STU about why these errors happen — and why they won't stop happening. Stephanie and Ryan will also discuss the phenomenon that is Serial, the podcast about a questionable conviction that had everyone talking, and what that tells us about the justice system.

Podcast: Play in new window | Download
Subscribe: Google Podcasts | RSS