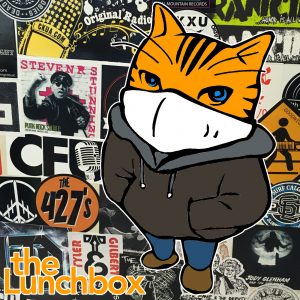 On today's show:
Bondo Picked Tampa's Hot Minute in 2018
I picked Ghost of the Tundra from Honey Gut, found on joint fundraiser album Postponed: The Mixtape brought to you by The Cap and CHSR.
From the summer of 2019, I bring you the interview with Derek Davidson, a painter in residence at the Barracks.
Every day counts, not none quite as much as Numeracy Day!
It's Root Canal Appreciation Day: if you need it, call you dentist, get the work done. You'll be happier afterward.
Make an apple pie (Apple Pie Day), hummus (International Hummus Day) or a nice cocktail (World Cocktail Day) today.
Celebrate another front-line worker who will be even more important in a post-COVID world: it's Receptionists' Day.
Webinar – Resilience, Mitigation, and Recovery: How ACOA's COVID-19 Assistance Can Help Your Business – Thursday, May 14?10:00 – 11:00am
Presented by Kent Estabrooks – ACOAIn this webinar, ACOA NB Vice-President Kent Estabrooks will provide an overview of work currently being done by the Agency, how requests and applications for assistance under regular funding programs are being handled, along with a high-level overview of the new Regional Relief and Recovery Fund and Canadian Seafood Stabilization Fund programs.He will also speak about the Agency's approach to collaborating and partnering with provincial government and other funding bodies. Moreover, he will discuss the realities of recovery, the challenges and opportunities presented to businesses, as well as some of the difficult decisions and preparations ahead.

Please join us for this important conversation as we all keep working to keep our economy strong and diverse.

See the Fredericton Chamber of Commerce event for more details.

Living Rooms Concert Series May 17
Each Sunday will have 10 acts performing 30-45 min each 4 PM- 9 PM.

4 PM Keegan MC (NB)
4:30 PM Nikkie Gallant Music (PEI)
5:00 PM Jesse Patrick Music (NB)
5:30 PM Sawyer Auger
6:00 PM Justin Maki (ON)
6:30 PM Arma Epifanía (NB)
7:00 PM Steven Pointmeier (AB)
7:30 PM Lindsay Foote (MA/ON)
8:00 PM Greg Rekus (AB)
8:30 PM Brittany McQuinn of Bleum (NB)

You can stream this from the Roots & Soul Music Promotions, The East, The Capital Complex, 
Grimross Brewing Co. Facebook pages.

They will share their links to music and merch.

We will collect donations each week and distribute accordingly as for most of these musicians playing music is their living or at least a big supplement for them.

There will be no Headliners, under cards anything like that all artists get the same time. This is about getting their music heard while they are stuck home.

Digital Tertulia: Matt Sears on "The Ancient Plagues" Wednesday, May 13?7:00 – 8:00pmA tertulia can be described as a literary and artistic social gathering or philosophy cafe where participants talk about ideas. Tertulias combine words, music, poetry, art and whatever else speakers want to share.

Upcoming: May 13 at 7pm: Matt Sears on "The Ancient Plagues"

Just a thought: "EXTREME Living Where You're At"
COVID-19 Update:
Public Health reported no new cases of COVID-19 on Tuesday, leaving New Brunswick's total number of cases to 120.

Premier Higgs said while the province moves through Phase Two of recovery, we must be kind to each other.

Dr. Jennifer Russell unveiled loosened restrictions for New Brunswickers who want to visit family nearing the end of their life. Only two people can be designated and only one person can be in the room at a time. 

Parks and major tourist attractions are expected to open again soon, and the province also said farmers markets can reopen, but the City of Fredericton is trying to figure out how to make it work for its markets. 

Prime Minister Trudeau said Ottawa will provide up to $500 of support for Canadian seniors affected by COVID-19. 

Health Canada approved the use of a new test that will allow doctors to see if recovered patients are immune to COVID-19.

Podcast: Play in new window | Download
Subscribe: Google Podcasts | RSS