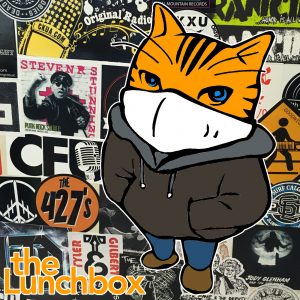 On today's show:
Today is International Tiger Day, so… have some tiger stripe ice cream! It's Canadian!
It's also Rain Day, but that doesn't feel particularly special recently..
And for supper? It's International Chicken Wing Day and Lasagna Day. Yum!
This New Brunswick Day you'll get a chance to celebrate online with the rest of the province in a big concert. Starting on Monday at 7pm and running until 9pm, the show will include performances by: Chloé Breault, Sacred Wolf Singers, Jamie Comeau & the Crooked Teeth, Bleum ,The Hypochondriacs, Les Hay Babies and David Myles. Watch this unique show, August 3rd, from 7:00 p.m. – 9:00 p.m., on

www.YouTube.com/AREA506

;

www.Facebook.com/Area506Fest

or

www.Area506.ca

.

The Charlotte Street Arts Centre invites you to join them on August 6 at 7:30pm for a performance by Catherine Kennedy. Their

 second fundraising music event of the season will feature the incredible Folk/Indie artist Catherine Kennedy! Enjoy the event from our outdoor venue in the beautiful Culture Garden at the Charlotte Street Arts Centre. 

Tickets can be purchased over at

Eventbrite

for $11.75 per person (1-4 person bubbles available).

See the Facebook event for more details.

Don't forget to check out chillteens w/ DenMother at The Cap Patio at 7pm, or catch some theatre at The Barracks at 7:30pm with the Taking It To The Streets performances of The NotaBle Acts Theatre Festival.
One of the advantages of writing, is you can do it anywhere! So why not do it at the Botanic Garden? I spoke with Riel Nason about her residency last week at the Botanic Gardens. She's working on a new picture book, but has her first one coming out this fall: The Little Ghost Who Was A Quilt.
I went back to 2018 for my interview with touring musician Shawn William Clarke. From his then-current album, we also hear In Conversation and Autumn In New Brunswick.
News updates:
Public health officials across Atlantic Canada reported no new cases of COVID-19 on Tuesday.

The federal government has given in to public pressure to expand a review into April's mass shooting in Portapique, Nova Scotia.

The COVID-19 pandemic has resulted in a delay in the selection process for this year's Order of New Brunswick.

The border with Quebec for communities bordering Campbellton and Edmundston could open as early as August 1.

A Fredericton man has been denied bail for fleeing the scene after hitting a pedestrian with his car on July 21.

The Oromocto RCMP says it has identified the suspects who broke into a local McDonalds last month.

Black Lives Matter Fredericton is teaming up with the University of New Brunswick to bring more Black history to New Brunswick public schools.

And Dr. Theresa Tam says she's keeping a very close eye on the rising number of COVID-19 cases in Ontario and the west.

Podcast: Play in new window | Download
Subscribe: Google Podcasts | RSS