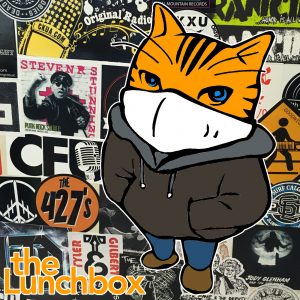 On today's show:
It's International Strange Music Day, so I present to you New Brunswick's own SIRR, with the delightful tune Sasquatch. Keep it weird!
It's time for a poetic smack down! The Fredericton Slam! is being hosted on The Cap Patio at 7pm tonight. While the ticket is free, they need you to purchase your free ticket in advance in order to facilitate social distancing. 

Tickets at:

https://thecaplive.com/tickets/poetry-slam-august-24th . 

See the Facebook event for more details.

Keith Hallett will be playing live on The Cap Patio on Wednesday night at 7pm!
This Saturday is Record Store Day! So, visit your Friendly Local Record Store to pick up some awesome exclusives, cherished classics and local superstars. And once it's all over, relax at 6pm on The Cap Patio the Heat $heets Record Story Day Drop Afterparty.
I've loved many wonderful and weird theatre experiences right here in this city, and felt like celebrating a different kind of strange music with words! I looked back on 2019 when I spoke to Corinski and Nate about Theatre St Thomas' #SWIPERS and UNB's Alex Pannier and Devin Rockwell about The Gravitational Pull of Bernice Trimble.
News updates:
New Brunswick Public Health reported one new case of COVID-19 on Sunday to bring the province's total number of active cases to nine.

Provincial party leaders are back on the campaign trail this week.

Police in Saint John are warning the public about a new employment scam making the rounds.

Police say a 21-year-old Dipper Harbour man is dead after a two-vehicle collision just west of Saint John.

Despite a global pandemic, the organizers from the Freddy Beach Ribfest had a successful weekend.

Residents are asked to avoid certain brands of California peaches after a salmonella outbreak in the United States.

A study by the Canadian Red Cross shows vulnerable seniors require more support during a pandemic and beyond.

And after three ballots and several hours of delays, the Federal Conservatives have their new leader.

Podcast: Play in new window | Download
Subscribe: Android | Google Podcasts | RSS