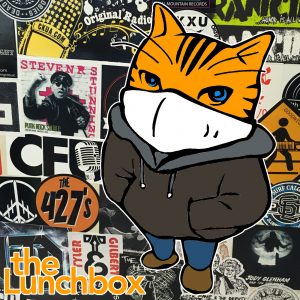 On today's show:
It's both Kiss and Make Up Day and Banana Split Day. Not sure if these are working against each other, or satisfying some couples' dreams…
I just heard about Maggie's Farm Revival's show at Dolan's Pub tonight at 5:30pm — but it was sold out anyway.
So, here's fair warning! Keith Hallett is playing at The Cap on Wednesday at 7pm. (Provided it doesn't rain…) Get your tickets while they are available!
I sat down with Tracey Dutt at the Botanic Gardens on Monday afternoon to chat about her artist residency working with textiles.
And back in 2017 I spoke with Lisa Ann Ross of Solo Chicken Productions about their art show called Shorts & Sweets.
News update:
New Brunswick Public Health reported no new cases of COVID-19 on Monday, keeping the province's total number of active cases at nine.

Provincial party leaders were back on the campaign trail yesterday afternoon.

Elections New Brunswick has announced there won't be polling stations on campus for the snap election.

Police say two men have been arrested and charged for possessing loaded firearms and illegal cigarettes.

The City of Fredericton is launching a new website for residents to provide feedback to city hall on several topics.

Police are warning residents about a fraudulent call claiming to represent Service Canada and the Saint John Police Force.

And a New Brunswick drive-in has received a special honour from Reader's Digest Canada.

Podcast: Play in new window | Download
Subscribe: Android | Google Podcasts | RSS