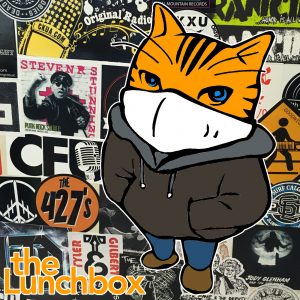 On today's show:
Today is Ask a Stupid Question Day. This is not just for people who ask the questions, but must be honoured by anyone who gets a question that feels off-kilter today. Respect the person asking the question, and give them an honest answer. Trust me: you'll be there someday, too.
It's also Hot Mulled Cider Day, which sounds like a great idea — aside from the ultra-humid weather. It's also Extra Virgin Olive Oil Day, which goes with everything, every day. Just don't be fooled, because the acronym EVOO is not a superhero.
This was also International Translation Day, so I have a feeling my guest from last week's Word Feast, Jo-Anne Elder, may have had a cake.
It's the end of September, and after hearing the song Milk & Cookies by The Steady Swagger, I had no choice. Technically, it's a pre-Christmas song, but I think it was just what I needed today. So, I also decided to bring forth my interview from a few years ago with this fun band, just to give you more of a taste.
I also felt we could use a little more hero, so I drew out the first featured subject of our Real Life Survivor series, Louie Stravato.
Today is Orange Shirt Day, remembering the story of young Phyllis, a survivor who was six when she had her orange shirt taken away from her the first day she was in Mission Residential School. Orange Shirt Day compels everyone to be reflective and commemorate the experiences of survivors, their families and communities. It also sets the stage for sincere dialogue about colonization and anti-Indigenous racism, as well as coming together in the spirit of piluwitahasuwawsuwakon. Piluwitahasuwawsuwakon is a Wolastoqey word that means, "allowing your thinking to change so that action will follow in a good way toward truth" (Opolahsomuwehs/Dr. Imelda Perley).
The Fiddlehead, Atlantic Canada's International Literary Journal is celebrating its 75th anniversary this year. Along with publishing a special fifth issue, they are hosting free online events featuring live readings from many of the authors who contributed to the anniversary issue. Over the final months of 2020, the series will highlight writers from across the country as they tour through the issue, beginning on the east coast and moving west. Tonight at 7pm EST to hear Antony Di Nardo, Tanya Evanson, Michelle Porter, Gabriel Robichaud, Émilie Turmel, Jo-Anne Elder, and a Q&A with authors.
The NBCCD Advanced Studio Free Guest Lecture series starts on Thursday at noon, with Tony Merzetti: The Accidental Filmmaker. Tony will relate his story as an MBA graduate who turned his back on a traditional, safe, prosperous career in accounting or banking for the uncertain prospects of entering the world of film in New Brunswick in the 1980s. Through his journey, he will relate the life lessons he picked up on the way, and how he balanced film creation activities with paid work in the film sector. Watch the lectures on Zoom each Thursday at 12pm at this link: bit.ly/guest-lecture-series.
There will be a Rally for Affordable Housing and Tenant Rights on Thursday afternoon at 4:30pm at The Exhibition Grounds. Fredericton City Council is poised to give away Fredericton Exhibition Grounds to developers for profit without guarantee for affordable housing. Join the rally to demand affordable housing and defend the right to housing. See the Facebook event for more details.
News update:
New Brunswick Public Health reported no new cases of COVID-19 yesterday afternoon.

The jury in the Matthew Vincent Raymond trial was shown detailed and at times graphic photographs of the crime scene.

Premier Blaine Higgs is saying goodbye to six members of his previous cabinet after a shuffle yesterday.

Fredericton police have arrested a 32-year-old man wanted in connection with several break and enters.

With a surge in COVID-19 tests for students in New Brunswick, Dr. Jennifer Russell says it may be time to take symptoms off the test list.

The federal government has signed an agreement with Abbott Rapid Diagnostic for 7.9 million rapid COVID-19 tests.

And the U.S. Presidential candidates went head to head last night in their first televised debate.

Podcast: Play in new window | Download
Subscribe: Android | Google Podcasts | RSS