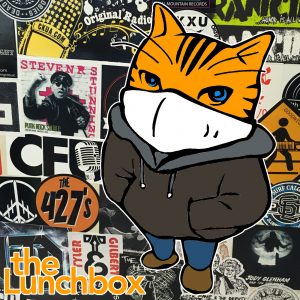 On today's show:
Today has a lot going for it! It's World Teachers Day, World Habitat Day, Country Inn Bed & Breakfast Day, Architecture Day and most importantly: Day of Bully Prevention.
We continue to celebrate Keith Lyons, local author and one of the chosen national faces of the Canadian Alliance on Mental Illness and Mental Health organization. Today, it's a 2015 interview with Chris Waddell about his newly released book, Alex's Perfect Fish.
And we also return with another great local, talented musician Richie Young when he released last year's album, Turn Back On Your Radio.
Maxwell's in The Crowne-Plaza Fredericton-Lord Beaverbrook is hosting a "Dinner and a Show" on Tuesday night at 5:30pm called "Let's Fall in Love".  It's a 3 course meal and an original show, all in one! 

Featuring Jacob Martin and Kelly McAllister, with live accompaniment by Keegan Manson-Curry, "Let's Fall in Love" follows two friends who met on a dating app before the pandemic hit. Navigating online dating is hard enough, but how do you meet your soulmate during a pandemic? Set to jazz standards we all know and love, will these two ever find someone to join their bubble? 

Tickets are $299 for a bubble of 4 people ($75 per person) and includes an amazing dinner created by Chef Matt and his Team followed by the original show 

12 bubbles per show for your safety and comfort.

 See the Facebook event for more details.

The show also runs on October 17, in case you miss it this week!
The next tertulia is coming this Wednesday night at 7pm is Amy Dryer presenting on Frida Kahlo. See the Facebook event for more details.
News update:
New Brunswick Public Health reported no new cases of COVID-19 over the weekend.

When looking towards flu season, Canada typically prepares itself from Australian results.

Premier Blaine Higgs says face masks might become mandatory across the province starting this Friday.

The Codiac RCMP is asking for the public's help to locate a missing teenager from Moncton.

In a new report from the Recording Industry Association of America, everything old is new again.

Despite the COVID-19 pandemic, Dine Around Freddy will make its return at next year's Frostival.

The St. Thomas University Students' Union has passed a new terminologies guide.

And U.S. President Donald Trump is receiving steroid treatments after being admitted to hospital for testing positive for COVID-19.

Podcast: Play in new window | Download
Subscribe: Android | Google Podcasts | RSS