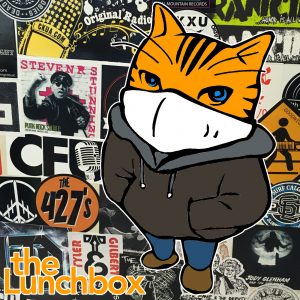 On the show:
IT'S CAPS LOCK DAY. ISN'T IT REALLY ANNOYING?
Thankfully, it was also Smart is Cool Day. I've always thought so, and would love for smart people to be the rockstars of the future. Let's stop validating the stupid, please?
Lainie B from Monday night's B Street brings another edition of Positive Songs For Pandemics with Take Me Home Country Roads performed by Whitney featuring Waxahatchee.
Back in 2018, I spoke with Hannah, Robbie and Kat about Next Folding Theatre Company's production of Songs of the Seer.
And from this summer's interviews, I picked my interview with artist Sasha French, recorded under the heavy rain in Odell Park.
News update:
New Brunswick health officials confirmed the province's fourth death related to COVID-19 yesterday.

Jurors in the Matthew Vincent Raymond trial heard from the defendant's sister during yesterday's hearing.

The New Brunswick Health Council has noticed little change in hospital patient satisfaction in the province.

A young singer from Dieppe just had her dreams come true after winning season eight of TVA's La Voix.

A Fredericton city councillor wants to see a notification system so commuters know of accidents at the Westmorland Street bridge.

Two men have been charged after a report of robbery and assault in Pennfield.

Good news for motorists around the province who will be saving a few cents at the pumps this week.

And Canada's chief public health officer says fake news about the COVID-19 pandemic is spreading faster than the virus itself.

Podcast: Play in new window | Download
Subscribe: Google Podcasts | RSS