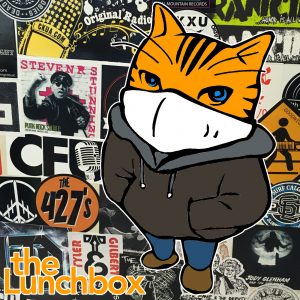 On today's show:
As we count down the days to Halloween, it's time to start really celebrate! It's Howl At The Moon Day and Pumpkin Day, so there should be a bunch of (non-threatening) midnight carvers out this evening…
It's also Mincemeat Day, which isn't really Halloweenish, but… tasty!
It's also Intersex Awareness Day. Be sure to broaden your views on sex and gender, because any notion of the simple binary is just that: simple. Be understanding. Be better people.
CONGRATULATIONS TO CHSR'S OWN ERIN BOND! Erin was recognized at Prix MusicNB Awards as the HARDEST WORKING PERSON OF THE YEAR for 2020! To celebrate, I'll be adding selections from her contribution to my show, Bondo's Picks all week long. Today, it's Foreign Diplomats.
I'm also looking back at this fall's Word Feast. Today, we hear from Jennifer Houle about this year's online festival.
And, since I have time, I'm going to include more music this week, both local selections and something that might put it in a spooky mood. Today, it's Bloody Diamonds with I'm Not A Machine.
Halloween is being supported each night this week from 6pm to 11pm with the annual APEGNB Haunted Tour #2020 edition at the Charlotte Street Arts Centre. It's operating under COVID-protection rules (wear a mask, hand-sanitize at the door, don't come if you're sick/have been sick/have been exposed) as well as travelling through in bubbles of four people. You'll need to buy your ticket ahead of time and be on time!
It's a theatre week!

Missed "Know Brunswick?" last week? No worries! It's happening at Maxwell's at The Crowne Plaza Fredericton-Lord Beaverbrook at 5:30pm on this Wednesday and next Wednesday. A blend of stand-up comedy, trivia, improv, and maybe a little serious scripted drama thrown in?! See the EventBrite event for more details and to get tickets.
The 2nd Annual Plain Site Theatre Festival is online this year from Wednesday, October 28 through October 31. This theatre festival aims to foster LGBTQ2+ talent and visibility. This years lineup of digital plays includes, readings, performances and workshops includes three new plays for this year, two plays adapted from last year, and two special productions.  See the Facebook event for more details.
TNB's Fall Festival of New Plays continues this week on Thursday, October 29 at 7:30pm with Caroline Coon's It Happened at a Party. 

It Happened at A Party

focuses on the grey areas of sexual assault. Relationships and situations are complicated and are never as black and white as society makes them out to be. We begin with three young adults named Lexi, Ryan and Tyler as they drink and get ready to go out to a party. After much prodding, they convince their friend Camille to join them for a night of fun. Recently, she has been distant from the group after coping with tragedy but agrees to join them. The night goes on and Camille ends up in an uncomfortable situation. As she faces doubt from her friends and denial from her attacker, we are faced with the unfair experiences of sexual assault victims today. This play is intended to open difficult conversations and pave the way for a new reality. See the TNB page for full details. The Festival continues until November 25.

If you love taking beautiful photographs, you should join Photo Fredericton for their monthly meeting this Tuesday night at 7pm online. For more details, visit photofredericton.ca.
News updates:
New Brunswick health officials reported two new deaths related to COVID-19 yesterday afternoon.

A psychiatrist testifying at the Matthew Vincent Raymond trial says he can't make a link between Raymond's actions and a mental illness.

More than 130 people gathered at the legislature Thursday to support Mi'Kmaq fisheries in Nova Scotia.

Police say a man from Lincoln will spend two years behind bars after pleading to child pornography charges.

The St. Thomas University Students' Union held their fall by-election Tuesday.

Some part of New Brunswick will see their first official sign of winter this afternoon.

As temperatures drop, Fredericton's homeless population won't have to roam the streets waiting for shelters to open.

And Canada's chief public health officer says evolving science is the reason for inconsistent messaging about COVID-19.

Podcast: Play in new window | Download
Subscribe: Google Podcasts | RSS