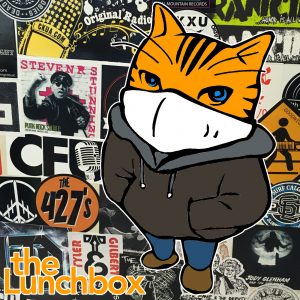 Introducing: the COVID-19 Update (CU)! Brought to you by CHSR member and STU Journalism Student, Aaron Sousa, our new daily feature of The Lunchbox, CU aims to give you a relevant information summary of local, provincial, national and international changes to the ongoing COVID-19 situation and our responses to it.
Also on today's show:
I spoke with Rowan Miller last year about the NotaBle Acts Playwriting Competition. This year's contest is still underway, with the general deadline on Shakespeare's birthday (April 23) and the school categories deadline at May 22. Find contest rules and details at nbacts.com or reach out to them on Facebook at facebook.com/notableacts. Their statement: "In case you've been wondering or had any doubts, rest assured that our 2020 playwriting contest will proceed as planned, with the same deadlines (April 23 for the regular contest, May 22 for the school categories). It's too early to say whether or how the pandemic might affect this summer's NotaBle Acts Summer Theatre Festival, but the contest will operate as per normal and we're confident there will be a festival this summer, even if it ends up looking a bit different than usual. But let's keep our collective fingers crossed, stay home (and write those plays! Shakespeare and King Lear and all that!) and hope for the best. Looking forward to receiving a bumper crop of pandemic-and non-pandemic-inspired plays in a month's time!"
In the middle, a bit of Maritime fun with frantically atlantic's Pachelbel's Reel.
Finally, revisiting Matt Carter and his Grid City Magazine, as well as his desire to make sure we find ways to support artists.
Remember: call our Feedback Loop to give us your words of encouragement, great things in your community, and tell us your staycation activities: 506-453-4989
CU 2020-03-27 notes:
The province confirmed seven new travel-related cases of COVID-19 on Thursday. This brings the total number of cases to 33.
Premier Blaine Higgs announced about 30,000 workers across the province are laid off this week as a result of the COVID-19 pandemic. His government will provide $50 million to support employers and keep workers employed.
Prime Minister Justin Trudeau announced Canada will implement a mandatory 14-day quarantine order for Canadians returning home from abroad. Anyone who doesn't follow the federal order could face a fine of 750,000 dollars or risk six months in jail.

Canada's chief medical officer of health, Theresa Tam, said COVID-19 cases in Canada totalled 3409 with 35 deaths. Tam echoed the prime minister saying that folks must take this seriously. As of Thursday, the number of cases globally reached just over 475,000.

The federal government announced the Canada Emergency Response Benefit this week, which will offer about $2,000 per month for up to 16 weeks to citizens who lose pay due to COVID-19. Applications open early next month and the government says applicants will be paid in as little as ten days.

Podcast: Play in new window | Download
Subscribe: Android | Google Podcasts | RSS