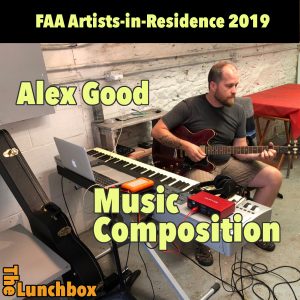 Music hits you where you live, and should make you think about it, too.
My guest today is Alex Good, a local music composer. Alex is searching for a way to reach his audience with a message of warning about environmental issues.
During the summer, the Fredericton Arts Alliance brings a pair of artists together in the Barracks to practice their art for all to see. These artists come from a wide variety of disciplines, from painting and sculpture to basket-weaving and writing. As each pair of artists comes in, we'll be talking to them on the Lunchbox.

Podcast: Play in new window | Download
Subscribe: Android | Google Podcasts | RSS