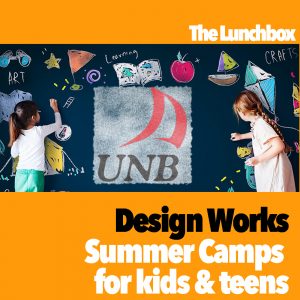 A chef, an actor, a musician, a photographer: what does your kid want to be this summer?
My guest today is Alison Howells, the Program Development Coordinator of UNB Leisure Learning and Design Works Programs. She joins me to celebrate the upcoming UNB Design Works summer camps for kids between ages 6 and 14. This summer, they've expanded their program to include 50 different camps, including popular returning programs like Junior Iron Chef, Theatre and Painting and Drawing, and adding themed programs based on Princesses, Ninja and Harry Potter!
The summer camps begin the week after regular school is done, and are filling up fast, so be sure to look over the list of programs with your children and register soon!

Podcast: Play in new window | Download
Subscribe: Android | Google Podcasts | RSS