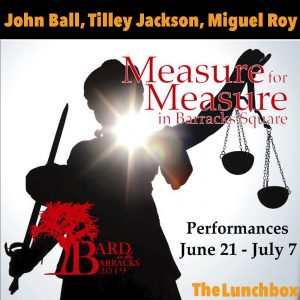 Despite the changes in the world, some things seem to remain relevant, for better or for worse: Shakespeare, surprisingly, is one of them.
My guests today are part of the cast and crew one of the upcoming Bard In The Barracks productions, Shakespeare's Measure For Measure. Joining me are John Ball (director), Tilley Jackson (Escala) and Miguel Roy (Angelo). They join me to talk about the surprising and unfortunate relevance this play has to the current day, how they chose to present it with an updated visual context, and demonstrate some of the powerful dialogue from the production.
Bard In The Barracks's Measure For Measure will be staged in Barracks' Square downtown. The play opens on June 21 with a preview performance (7:30pm), and then runs June 23, 26 and 28, July 3 and 5th, with matinee performances (2pm) on June 30 and July 7.

Podcast: Play in new window | Download
Subscribe: Android | Google Podcasts | RSS