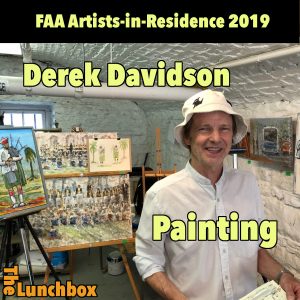 There is nothing so common to see yet uncommon to capture than the human form, or the essence of a moment.
During the summer, the Fredericton Arts Alliance brings a pair of artists together in the Barracks to practice their art for all to see. These artists come from a wide variety of disciplines, from painting and sculpture to basket-weaving and writing. As each pair of artists comes in, we'll be talking to them on the Lunchbox.
My guest today is Derek Davidson, a sketch-and-paint artist. Derek talked about his work capturing natural scenes with sketches and paint, from spaces where the natural intrudes (e.g. dockside at St Andrews) to spaces where people are the focus. In his continued efforts to depict the essence of people, he's challenging himself to sketch and paint faster, and is capturing bands live in Officer's Square.

Podcast: Play in new window | Download
Subscribe: Android | Google Podcasts | RSS