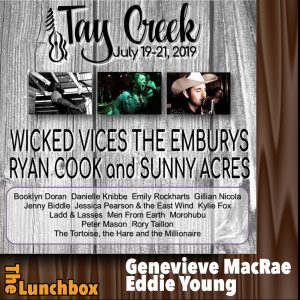 Maybe it's just the smaller venues or a familiar set of faces, but going to events in New Brunswick often feels like you're coming home.
My guests today are part of the team of organizers behind this year's Tay Creek Folk Festival. Genevieve MacRae is the Chair of the Organizing Committee, and Eddie Young is the Music Director of this year's festival. They join me to fill in some of the history of the festival, explain the comfy, "adorable" nature of the weekend event, and talk a little about this year's great lineup.
The Tay Creek Folk Festival runs from July 19-22 in Tay Brook, NB. All festival passes are being sold ahead of the event this year, so be sure to visit the Etix online booth to pick up your pass right away.

Podcast: Play in new window | Download
Subscribe: Android | Google Podcasts | RSS