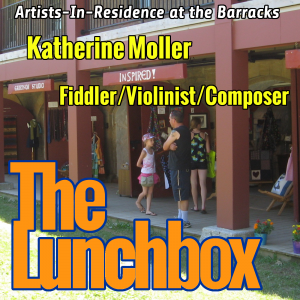 Music is the endless and fruitful recombination of an infinite variety of memories, stories and ideas, spread out across the aural spectrum. 
During the summer, the Fredericton Arts Alliance brings a pair of artists together in the Barracks to practice their art for all to see. These artists come from a wide variety of disciplines, from painting and sculpture to basket-weaving and writing. As each pair of artists comes in, we'll be talking to them on the Lunchbox.
My guest today is Katherine Moller, well-known fiddler and violinist, composer and teacher of music. I caught up with her at the casemates to chat about the various projects she's been working on, including the new release of the live album by Different Folks and her own album last year, Storm Queen.

Podcast: Play in new window | Download
Subscribe: Android | Google Podcasts | RSS