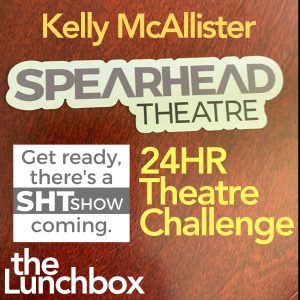 Pressure has amazing effects on creativity, forcing you to trust your instincts and discard doubt and distractions to press forward; it is a terrifying, inspiring, motivating rush!
My guest today is Kelly McAllister, founder of the latest theatre company in Fredericton, Spearhead Theatre. After their inaugural production of Agnes of God back in September, they are now looking forward to challenging theatre of an entirely different kind: the 1st Annual 24-hour SHT Show theatre challenge. Kelly joins me to talk about the founding of her own theatre company, the desire for a short-turnaround theatre contest, and where she hopes Spearhead fits into the local theatre scene.
The 24-hour theatre contest is being held on the last weekend in November. You must sign up by November 22 to participate, and you can sign up as an individual (and be added to a team). See the Facebook event for more details.

Podcast: Play in new window | Download
Subscribe: Android | Google Podcasts | RSS