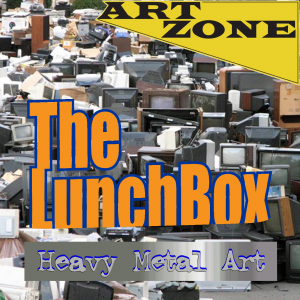 We throw out too much stuff.
Technology is a wonderful thing, and the pace of invention is incredible, but it has a dark side: waste. A phone bought brand new today may only have a useable lifetime of a few years. A desktop computer might be obsolete in 5 years, and your TV is reinvented every year.
But what happens to the old stuff, the stuff you have to throw away?
Too much of it is just ploughed into the ground, presumably to be a problem for people "of the future" to deal with. Instead, we need to face this problem.
But what "face" should we look at?
There's a great project going on with ArtZone right now: drop off your e-waste, they'll take it and first turn it into art (to put another "face" on your stuff), then they'll give it all to Beaverdam Recycling to be torn down for recycling.
And they are also adding a heavy metal concert to the mix!
My guests today are Lori Quick (UNB Art Centre), Nicholas Gibeault (ArtZone) and John Doucette (Beaverdam Recycling). We had a great talk about the intersection between art and trash and recycling, and make the point that we have to deal with this problem, or it will deal with us.
Music today:
The weather lately has been full of strong wind — and will be again, soon! — so let's hear Going Sideways by Shred Kelly from the Sing To The Night album.
And reminding us of our responsibility, one of the performers at the free, all-ages Heavy Metal concert as part of the Art Zone project, we heard It's Up To You from Moment of Inertia's In These Riot Streets album.

Podcast: Play in new window | Download
Subscribe: Google Podcasts | RSS