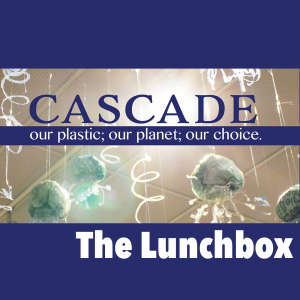 So far, we've only got one planet. And just because it's covered with water, that doesn't mean we should take it for granted — or worse, pollute it.
My guest today is Marie Maltais, Director of the UNB Art Centre. For several years, the Centre has sought to raise awareness about our world's (mis)treatment of water, and this year's focus returns to the impact of waste plastic on our environment. She joins me to talk about some of the impact of the art work created to demonstrate these concerns, and about the upcoming panel discussion about who we can help avoid a future buried in ugly trash and spoiled water by taking control of our plastic.
The Panel Discussion will be on April 25 at 7pm at Memorial Hall on UNB campus. It is free to attend, and all are invited. Panel guests include Brad Janes (Fredericton Regional Solid Waste Commission); Charlene Mayes (Professor of Environmental Biology, UNB; David Coon (NB Green Party MLA); Jeff Carr (Minister of Environment and Local Government and NB MLA); Kelly Green, (STU Sustainability); Pierre Landry (Encorp Atlantic) and Stephen Chase (Chair of Public Safety and Environment for the City of Fredericton).

Podcast: Play in new window | Download
Subscribe: Android | Google Podcasts | RSS