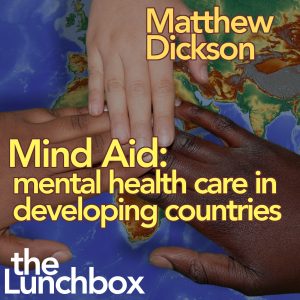 The human condition is the same concern everywhere; but many places do not have the capacity to provide the support and therapy necessary. We need to help each other.
My guest today is Matthew Dickson. He is sharing the idea of Mind Aid, a program intended to bring awareness to a dramatic lack of mental health support and treatment opportunities in developing countries, as well as generate support for making change. Having lived with his own mental health challenges, he urges people to consider how they can make a change.
Matthew is giving a talk on Mind Aid, which not only covers the program itself but will have some advice for students also working through their own mental health problems. The talk will be on September 17 at 6:30pm at Room 303, Tilley Hall at UNB. The talk is free, but donations will be accepted to help support the program. Find out more about Mind Aid at their website.

Podcast: Play in new window | Download
Subscribe: Google Podcasts | RSS