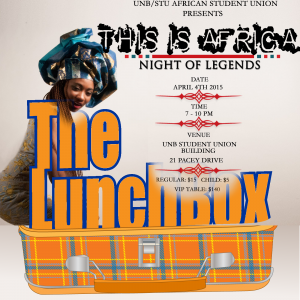 What do you know about other parts of the world?
For some of you, that's where you're from! Others of us probably learn a lot from television, movies and of course, the Internet.
But..
Wouldn't it be better to learn it from people? And what about the food? That's something you can't get on the Internet!
My guest today is Siddarth Raval, an organizer from the new group called the International Students Association (ISA) at UNB. It's a collective student club bringing together students from all over the world — including from Canada! — to support, celebrate and promote international cultures at UNB. They've teamed up with the African Student Union to create a wonderful event for this Saturday night: This Is Africa: Night of Legends. We talked about the variety of things to see and taste at this upcoming event, the work that the ISA is doing and the plans they have for the future.
Music today:
Making staying home with yourself sound super-sexy, we heard Del Bel from the self-titled album with the song In My Solitude.
And reminding us that a good party precludes good sleep, we heard Up All Night by The Marwills, off of their Facts + Figures album.

Podcast: Play in new window | Download
Subscribe: Google Podcasts | RSS