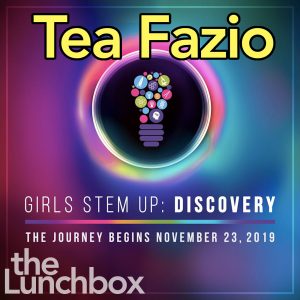 Science doesn't have gender; it has minds. Curious, hardworking, smart minds in human bodies. Let's all make sure women are supported and encouraged to do science!
My guest today is Tea Fazio, one of the executive organizers of the upcoming GIRLS STEM UP: Discovery conference. She joins me to talk enthusiastically about her own journey through science learning, from being encouraged to explore math and science at a young age, to being a student expanding the sciences she works with, to providing mentorship and tutoring (and inspiration) for young girls in high-school and university to enter and proceed through the scientific journey. She also tells me about the upcoming conference, and how it hopes to provide role models, guidance and support for all people to help women join scientific fields.
The GIRLS STEM UP: Discovery conference will be held all day at the Fredericton Convention Centre on November 23. However, registration to attend the event ends tonight (November 15), so be sure to sign up right away — tickets are going fast, and they are nearly sold out!

Podcast: Play in new window | Download
Subscribe: Android | Google Podcasts | RSS