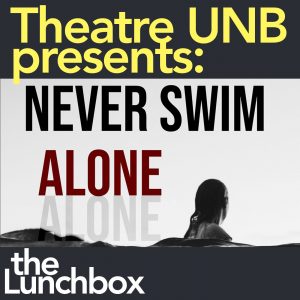 It is not so much that you know the content of the play, but the character of it which will drive you to your seat..
My guests today are Alexe LaPointe (Director), Maria Ingrahm (Co-Director, Stage Manager) and Bhavya (Actor) from the upcoming Theatre UNB production of Never Swim Alone. Listen as they dodge specific questions about the play (keeping you in…. SUSPENSE!), but talk about their experiences putting their interpretation of this play together.
Never Swim Alone opens on October 24 at Memorial Hall on UNB Campus, and runs nightly until October 26.

Podcast: Play in new window | Download
Subscribe: Android | Google Podcasts | RSS