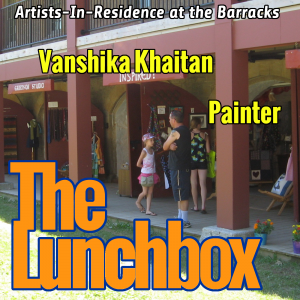 No matter when, start doing art as soon as you can. It will change all of your future.
During the summer, the Fredericton Arts Alliance brings a pair of artists together in the Barracks to practice their art for all to see. These artists come from a wide variety of disciplines, from painting and sculpture to basket-weaving and writing. As each pair of artists comes in, we'll be talking to them on the Lunchbox.
My guest today is Vanshika Khaitan, a young painter seeking to add more surrealistic elements into her painting. We talk about her variety of artistic interests and how much these residencies help her grow as an artist.

Podcast: Play in new window | Download
Subscribe: Android | Google Podcasts | RSS