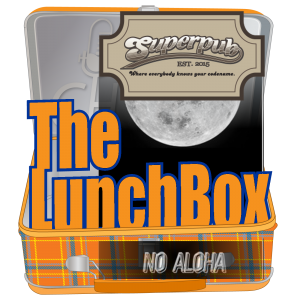 Comic strips are the bite-sized funny, the moment of laughter, the blast of cool air. Mike loves comics of all kinds, and when he and his friend dreamed of doing one, it seemed like a quaint notion over a pint or two (or three).
And then they started it.
My guest today is Mike Campbell, illustrator of the new webcomic Superpub, in which the familiar set-up of cheers meets the superhero crowd. We talk about how this came to be, the process of making a web comic, and where Mike hopes this goes in the next few years.
And Erin "Bondo" Bond had a chance to talk with the members of the band No Aloha. They're coming to Fredericton on March 5, playing with Motherhood and The Waking Night. A show not to miss, and an interview to enjoy!
Music today:
To get us in the right mood, we started with The Long & The Short of it All by Slowcoaster, from their latest album The Girls Downtown.
Taking us out of the interview with Mike Campbell, I played The Walls Have Drunken Ears from Whitehorse's latest album, Leave No Bridge Unburned.
And to give you just a taste of what's to come, I played All Eyes from the digital version of No Aloha's Tour Tape release.

Podcast: Play in new window | Download
Subscribe: Android | Google Podcasts | RSS