Harvest Jazz and Blues is officially underway after the first tent show of the festival last night. This year's festival technically started on Tuesday night at the playhouse with performances by Fredericton's own Ross Neilsen and The Blind Boys of Alabama, but most dedicated patrons will tell you that it doesn't truly feel like Harvest under you pack a crowd underneath a tent.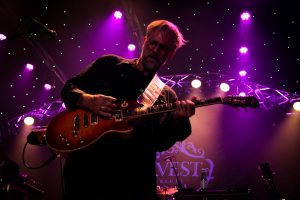 The first tent show was kicked off last night by Swedish-American Anders Osborne. Osborne and his band quickly packed the Blues Tent, enthralling audiences with long jam sections built into each song that didn't lose a moment of the crowd's attention. Osborne combined the stage presence of John Mayer with the playing of Eric Clapton, putting on a masterclass in soloing whilst grooving all over the stage.
His supporting cast was led by bassist Carl Dufrene, who laid back in a comfortable, modest stance, hidden by the coloring of his sunglasses, keeping the machine turning with every note he hit. Osborne's drummer, Brady Blade, who was placed right out front in the bands stage plot, added greatly to their presence with his loose, shoulder-shaking playing.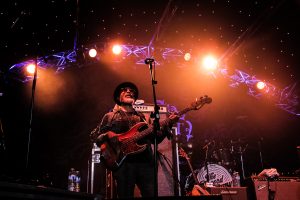 Osborne delivered each powerful moment with grace and ease, leaning into every solo with passion and unforgettable facial expressions. While the set list was kept short, with little communication to the crowd, in the end they weren't needed. The music spoke for itself and gave you your moneys worth with bands to spare.
One of those other bands was The Record Company, who took a mere 30 seconds to prove why Harvest gave them their first festival opportunity and has brought them back ever since.
The bands multi-instrumentalist/lead vocalist Chris Vos came out of the gate with his guitar swinging, throwing his body around every inch of the stage. Whether it was on an electric, acoustic, a steel or even a harmonica; Vos undeniably stole the show.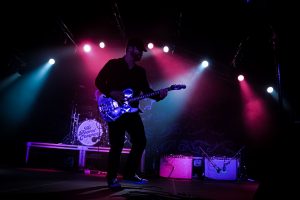 Above all the physical theatrics however stood Vos's vocal range, from deafening, gritty blue rock vocals to pitch perfect frequencies on the band's sweeter songs.
When it was all said and done, Vos and the rest of the band had nothing but love letters for Fredericton and the festival.
"It will never be lost on us," said Vos when expressing the bands gratitude for the opportunities Harvest has given them.