How lucky are we to have so many incredible music releases in 2018. Every year I say how hard it is to only select 10 albums, but this year it really was hard to select only 10.
---
Favourite Albums of 2018
By release date:
Released February 2, 2018 via Bonsound
Milk & Bone is an electropop duo from Montreal that has been on my radar since 2015's Little Mourning, which also made my favourite album list that year and was also Polaris long listed. Learning in 2017 that there was a new record on the way got me pretty excited and it totally didn't disappoint. Layered in synth and the darker side of adulting, there was no question the first time I listened to this record that it definitely would be a favourite.
---
Released February 9, 2018 via Columbia
I've always liked MGMT, but I found with their past couple releases their should has become safe, and not that interesting to me. But with their 4th release, Little Dark Age, they're back to that synthpop weirdo sound that I fell in love with.
---
Released February 16, 2018 via Paperbag Records
I heard the first two singles from this album later 2017 and liked them, but it wasn't until I heard them in the context of the entire record that I totally fell in love with them. It's a reverb-soaked retro rock riffed album and was the perfect way to begin 2018.
---
Released April 11, 2018 via Girlsville
There's nothing I love more than DIY fuzzy-punk-sludge-garage-rock. It's heavy, it's somber, it's forceful, all while still maintaining interesting lyrics. This all-female trio will musically kick yer face off.
---
Released June 18, 2018 via Sub Pop
Here is a great example of a pretty well known artist that I've never listened to before but I probably should have. I don't really have a reason why, it's just not something that was ever on my radar even though I've heard great things about Josh Tillman's music. But this record came in to my inbox and I thought what the hell, and listened to it and it blew me away from the very beginning. Father John Misty is literally a soulful cynical Elton John. I can't wait to dive into the rest of his discography.
---
Released June 29, 2018 via self-release
There's something about Halloway Jones' voice that is so full and almost hypnotic in a haunting way. Their song, Gold, may be my favourite track of 2018. Seeing them live in CHSR's Studio D over the summer was a special moment for me. What an honour to experience music you love in such an intimate way.
---
Released June-ish via Chimera Music
This band is a complete enigma to me, and perhaps that's part of the appeal. From what I can gather, this is a series of double singles released over a span of months, then suddenly this album shows up at CHSR. It's a project of Kemp Muhl, who is co-founder of Chimera Music along with long-time partner Sean Lennon. What's appealing to me is that this is straight up modern glam rock with a serious nod to 70's rock and has influencing sounds ranging from Led Zeppelin to Jack White.
---
Released August 10, 2018 via Carpark Records
What luck finding this album. It came to me in a bundle from Terrorbird Media and it's what I would classify as a grower. I listened to it, and I liked it, but the more I listened to it the more I liked it. At the most basic level it's some indie guitar pop featuring angst and pain, but with a smile and some pep.
---
Released August 17, 2018 via Castle Face Records
This is literally their 21st record, and we're still not getting tired of them. Classifying Smote Reverser as an alternative psych-prog garage record album doesn't really do justice to the sound, so you'll probably just have to go and listen to it for yourself. You won't regret it.
---
Favourite Album of 2018 goes to…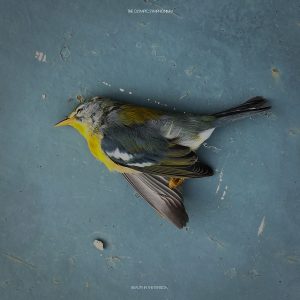 Released February 9, 2018 via Forward Music
With their 5th studio album The Olympic Symphonium once again fill our hearts with their signature rich harmonies throughout the 10 dreamy tracks. The fact that this record was recorded in the short span of six days blows my mind. Actually, pretty much everything about The Olympic Symphonium blows my mind. What a New Brunswick treasure.
---
---
Honourable mentions go to:
Released December 31, 2017, so technically it's ineligible for my 2018 list. But holy crow is it a great album.
Released April 17, 2018, there was something that sounded off about this record which I think made me listen to it more and closer just so I could put my finger on it. If you're into psych pop minimal music you're going to love this record.
Released March 10, 2018. This was my summer jam and probably the most played record of 2018 in my collection.
Released may 25, 2018. Everything Mint Record releases is golden. I suggest you go to your local record store and purchase this on vinyl if possible because the album artwork is just as amazing as the sounds.
Released April 6, 2018. The first time I heard this record I posted on Facebook that this record would win the 2018 Polaris Music Prize… which it did. Artistically, I don't think any record released in 2018 can compare to this. Not only is it stunning, it's also so culturally important and my wish is that everyone researches the story behind the album.